I am really proud to be a host for the S2S2D blog hop today which is in honour of Emma –  a lovely fellow blogger who blogs at CrazywithTwins. This Blog Hop is the brainchild of VerilyVictoriaVocalises, FireflyPhil and The OliversMadhouse
Emma's Story
For those who do not know, Emma had to go in for radiotherapy as she was diagnosed with cancer again this year. (She had previously been diagnosed with Leukaemia  when she was 8 and had successfully undergone treatment) However, because this radiotherapy treatment was so intensive, she was not allowed to within 2 metres of her children for a month. Luckily, on her last review, this date was brought forward and she was reunited with her children sooner than the original plan. You can read all about her fight against cancer on her blog at www.crazywithtwins.com
How I know Emma
I met Emma briefly at Windsor where we both attended a meet up with Tefal as we are both on the Tefal Innovation Panel. I didn't get an opportunity to speak to her much but when I came back home, I obviously went around visiting all the blogs of the bloggers whom I had met there.
I would have never imagined what she is going through as she seemed so positive. I did hear her talking to another blogger about the radiotherapy and the isolation but I didn't really realise what she would have to go through. She seemed to take everything in her stride so well.
On my return home, I also noticed that she has been nominated for the BiB awards in the Inspire category and she definitely has my vote.
I cannot imagine what it must be like for her and her family but reading about her fight against cancer, she is truly an inspiration. How lucky for her little girls to have a mom like her! She is someone that they can really be proud of.
While it is definitely hard for a mother to be able to see her children and not go near them, it must be even more difficult for children to see their mother and not be able to give her a hug. So I have been in contact with Waly from Cryoow who makes these one of a kind dolls and he has very kindly agreed to give the little girls three Cryoow dolls. I figure Emma's little girl would love to be able to create a drawing of any character/doll and have it made into a doll which only she will own. For the twins, maybe Emma and her daughter may like to create the pictures together. I will be emailing Emma with details on how to order her dolls.
We had reviewed Cryoow dolls in our home and the children love their dolls. I am hoping this will bring a smile to Emma's little girl's faces.
In the meantime, my message to Emma is 'Keep Strong' as you are truly an inspiration in the Blogging Community. It is people like you who have made me aware of how I can actually use my blog to do so much more than write reviews!
I lost my mother to Leukaemia and it was sudden so I know what a difficult time it must be for her entire family.
Emma is running for Race for Life in Cheltenham on 7th July and this is her page so please donate whatever you can for this noble cause.
This is part of the S2S2D linky where bloggers have got together to support Emma and her family during this difficult period. Please add your posts below to make Emma and her family smile.
I am not a very good poet but here is a poem that I wrote for Emma 🙂
Cancer  – Emma's gonna get you
And beat you to a pulp
You'd better run, you'd better hide
And not show your face – gulp!
Cancer – she's gonna fight you
With all that she has got,
And she is not going to give in
So it looks like you've been caught!
Cancer – you don't have power
When you're against someone strong
So I suggest you turn your tail
And better run along.
Cancer –  you have lost this battle
And it's one you will never win
You better know who you're dealing with
You're right – she's Crazy with Twins!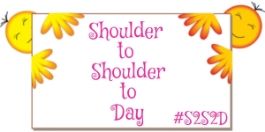 If you would like to show your support with a blog post you can do so here