Name of the book: The Strangers Outside
Author: Vanessa Morgan
Genre: Supernatural
Synopsis
Two sisters, Jennifer and Louise, return to their remote holiday cabin after a day at the seaside. But little do they know they're being surrounded. Shortly after their arrival, the girls will come face to face with THE STRANGERS OUTSIDE. When the assailants make their intentions known, things take a shockingly terrible turn and an intense battle for survival will begin.
Review
A short story for a quick and creepy read. The book took about 10 – 15 minutes to read but left images in my mind.
The book is spooky but leaves a few unanswered questions. The characters did not flesh out as the focus was more on the stangers. It will still leave you looking over your shoulder or peering out of the window in the dark to look for hooded monks!!
Well written it cuts to the chase fairly quickly. Wonderful makings for a good full length book

.
This review is part of The Strangers Outside Book Tour brought to you by Charisma Media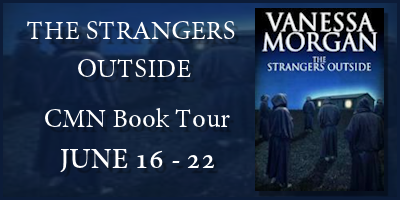 Giveaway
If you would like to win a copy of the ebook of The Strangers Outside, enter through Rafflecopter below: