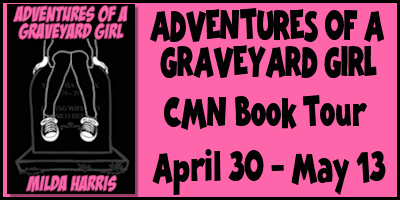 Title : Adventures of a Graveyard Girl
Author: Milda Harris
Genre: YA, Murder mystery

Synopsis
Kait Lenox is back! It's Homecoming Dance time and Kait is excited. It's her first dance with a date and that date is none other than one of the hottest, most popular guys in her school, Ethan Ripley! For once Kait doesn't feel like a funeral crashing weird girl and it's the most perfect romantic evening ever…at least until a girl gets murdered in the high school bathroom. Rumors fly, panic ensues, and Kait can't help herself, she assigns herself to the case!
Review
Its been a long time since I read a Young Adult book and Adventures of a Graveyard Girl did not disappoint. Starting on a great note, it weaves in the murder towards the beginning of the story making for a suspenseful read from start to finish.
The connection between the Graveyard Girl and her interest in solving murder mysteries is very well brought about. Even being unpopular in school for crashing funerals, she manages to get together with one of the most popular, good looking boys in school – Ethan.
While being part of a series, this book is easily read alone on its own. However, it did make me want to read the first book after I completed this one.
The mystery kept me guessing till the end and I did not want to put it down because I got so involved in it.
Targeting Young Adults and teens, the book did not make for heavy intense reading, yet kept the thrill alive. The backdrop of the school and teenage problems is something that will relate to this audience.
Well written with a superb plot, this book is highly recommended.